Creation Entertainment Brings The Vampire Diaries Cast Back to Chicago!
Season 4 of Vampire Diaries is in full swing, and as they received an early renewal order for a fifth season, there is cause to celebrate! As we've learned, there's no better way to celebrate than to attend a Vampire Diaries convention. This year, Creation Entertainment is kicking off the Vampire Diaries convention season by bringing the cast back to Chicago, IL on April 6-7, 2013.
Saturday, April 6th Appearances: Steven R. McQeen [Jeremy Gilbert], Candice Accola [Caroline Forbes], Nate Buzolic [Kol Mikaelson], and Charlie Bewley [Galen Vaughn]
Sunday, April 7th Appearances: Ian Somerhalder [Damon], Paul Wesley [Stefan], Torrey DeVitto [Dr. Meredith Fell], and Arielle Kebbel [Lexi Branson] and Charlie Bewley [Galen Vaughn]
A Creation Entertainment Vampire Diaries event involves cast meet-and-greets, trivia and fan video contests, photo and autograph opportunities, and they will also be continuing the tradition with the Decade Dance, which will be attended by Candice, Steven, Nate and Charlie! Of course, one of the best parts of the Creation events [besides forming some amazing new friendships with fellow fans] are the panels with the cast. Every year, attendees get to hear some great stories about cast happenings behind-the-scenes, pranks they've played on each other, what they like to do in their downtime, and more!
We can tell you from experience: whether you're a first-time Creation Entertainment convention attendee or a seasoned pro, you'll have a great time sitting in on panels with the Vampire Diaries cast and meeting fellow fans. Don't live in Chicago? The convention is held in the Westin Hotel, so all you have to do is book a room! You can visit the Creation website for more information including updates, ticket purchases, and to find out what other cities will be holding a Vampire Diaries convention.
You can also catch up with the cast at a few other locations across the country. Creation Entertainment has several ticket options, from one day passes to ultimate Gold Weekend passes for the diehard fans. Follow the links below to each city's Vampire Diaries convention page, and we hope to see you at one of them this year!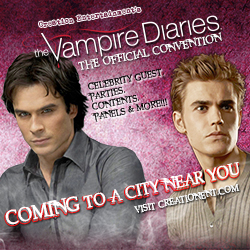 April 6-7, 2013 – Chicago, Illinois
April 13/14, 2013 – Las Vegas, Nevada
July 13-14, 2013 – Parsippany, New Jersey
August 17-18, 2013 – Dallas, Texas
December 14-15, 2013 – Orlando, Florida
Creation also hosts Supernatural, Star Trek, and Xena conventions, the details of which you can find on their Upcoming Events page.