11 TV Deaths That Absolutely Crushed My Soul
Station 19 was *this* close to killing off not just one but two of my favorite characters in their season two premiere. While I was lucky they didn't end up killing either of them, I started thinking about some of the most memorable deaths on television. Specifically, it got me thinking about all of the fictional characters I've connected with on a personal level who are no longer on their respective shows and how they died.
That being said, here are 11 TV deaths that personally crushed me as a viewer:
Finn Hudson — Glee
Anyone who knows me personally knows that Finn Hudson is my favorite television character of all time; Finn and the actor who played him, Cory Monteith, had a huge impact on my life. I truly grieved when Monteith passed away in July 2013 from a drug overdose. I remember a lot of conversations on Twitter that summer about how the writers would handle his passing. To me, as unfortunate as it would be, it only made sense to kill Finn off. The episode that did exactly that, aptly titled "The Quarterback", was probably the most emotional I've ever been while watching TV. But I really appreciated how the writers focused on who Finn Hudson was versus how he actually died. It allowed not only the characters but the actors to grieve and not hide what they were feeling. 
Michael Cordero — Jane The Virgin
I think I speak for most fans when I say nobody saw Michael's death coming when it did. If you're a die-hard fan, like me, you knew it was always a possibility, especially because the narrator told us back in season one that Michael loved Jane "until his last breath." But nobody expected that to happen so soon after Jane and Michael tied the knot. While the impact of this moment is now cheapened a bit because of Michael's sudden reappearance at the end of season 4, it is still one of the most heartbreaking moments I've seen on television.
Marissa Cooper — The O.C.
Even though I binge-watched The O.C. for the first time last year, I knew Marissa Cooper died in the season three finale and would not be a part of the fourth and final season. However, having her death spoiled for me still didn't make it any less difficult to watch. The image of Ryan carrying her after his car explodes behind them to a cover of "Hallelujah" is forever seared in my brain. She was kind of the worst, but she didn't deserve to die such a traumatic death after everything she went through in the first three seasons of the show.
Keith Scott — One Tree Hill
Oh Keith, poor sweet Keith Scott. You didn't deserve to die! As viewers, we were definitely cheated out of our time with Keith. He had just gotten together with Karen, and after his death, we learned that the two of them were expecting! Personally, I will never forget watching at 2 AM, Dan Scott kill his brother in cold-blood at the end of one of the most intense episodes; I cried my eyes out for at least another hour afterwards. My heart breaks even just writing this because Keith deserved so much more than the fate he got.
William Hill — This Is Us
We all knew it was just a matter of time before William left his newfound family due to cancer. But the way it actually unfolded required more Kleenex and wine then I had available at the time. As he lay dying in that Memphis hospital, following such a memorable road trip with his son Randall, William tells him, "You deserve the beautiful life you've made," and gives him the collection of poems he had been holding onto for decades. It was a beautiful, poignant moment between two people who had only just connected on a father and son level and it made Randall's tears in the moments after that much harder to watch as a viewer.
Richard Gilmore — Gilmore Girls: A Year In The Life
Another example of a character dying on-screen due to the off-screen death of the actor who played him. Edward Herrmann died in 2014, years before Gilmore Girls: A Year In The Life became official. Once the renewed series went full-steam ahead, it was obvious they wouldn't be able to skip over his absence. So the show decided to address the character's passing head-on. Despite Richard Gilmore dying off-screen four months before the first episode, "Winter", takes place, the series did an excellent job at making Richard's presence felt throughout the entire revival. 
Derek Shepherd — Grey's Anatomy
McDreamy's death is no doubt the biggest event that's ever happened on Grey's Anatomy. I mean, killing off THE DEREK SHEPPARD? What were Shonda and the rest of the writers' room thinking?!?! As super emotional as it was to see Meredith say goodbye to her longtime love, it wasn't as soul-crushing as it could have been. In just one episode's time, they jumped ahead a year and suddenly everyone had moved on. I didn't necessarily want it to be drawn out for 10 episodes, but as I said earlier, this is freakin' Derek Sheppard. He deserved to be properly memorialized. *drops mic*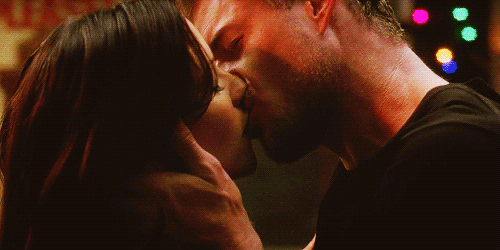 Mark Sloan & Lexie Grey — Grey's Anatomy
You can't have one of these names on this list and not have the other; it just wouldn't be right. Season 8 was the first full season of Grey's I watched live and I remember thinking, "This is the season Mark and Lexie will get back together for good." Imagine how crushed a 16-year-old Bryna was when not only did they not get back together but Lexie was killed in a plane crash in the middle of the woods in the season 8 finale. Once that happened, it didn't surprise me when Mark was also killed off in the first episode of season 9. These two had one of the best relationships this show has ever seen and seeing Mark work through his grief would have killed me. 
George O'Malley — Grey's Anatomy
No, George O'Malley was not my favorite character on Grey's, but his death continues to hit home if I sit and think about it long enough. In the season 5 finale, the doctors of Seattle Grace treat a John Doe who was dragged for blocks by a bus after he jumped in front of it to save a woman he didn't even know. At first, it just seems like an intense case. But then the writers execute a callback to the early days of M.A.G.I.C. as interns: the mangled and disfigured John Doe writes a simple 007 in Meredith's hand, and she soon realizes the patient they are working on is none other than their beloved George. By this time, it's already too late for them to say goodbye and everyone watching at home suddenly feels their heart break.
Denny Duquette — Grey's Anatomy
As crushing as all of these other Grey's Anatomy deaths were, Denny was the first memorable one and the most heartbreaking in my opinion. He survived cut LVAD wires and a heart transplant, only to stroke out all alone in his hospital room just after Izzie agreed to marry him; the image of Izzie in her pink ball gown, being lifted off Denny's lifeless body by Alex, is a hard one to forget, even all of these years later. 
Readers, which TV death absolutely crushed your soul? Let me know in the comments below.